Obra é prequel de Hokuto no Ken
Foi anunciado na Issue de dezembro da Monthly Comic Zenon, da Tokuma Shoten, que a obra Souten no Ken (ou Fist of the Blue Sky, no inglês) ganhará um novo animê em breve.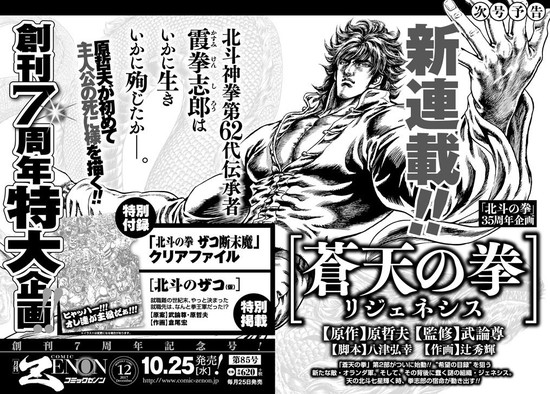 Além disso foi informado, também, que nessa mesma Issue estreará outro mangá da franquia, intitulado Souten no Ken Re: Genesis. Esse novo mangá conta com Buronson como supervisor editorial, Hiroyuki Yatsu escreve a história, Hideki Tsuji desenha e Hara é creditado por esse trabalho original (em suma, ele é creditado como o cara que inseriu essa história na mitologia).
Souten no Ken começou a ser publicado em maio de 2001, na Weekly Comic Bunch da editora Shinchosha, durando até agosto de 2010; com um total de 22 volumes. Também já ganhou um animê anteriormente, tendo sido exibido em 2005.
Abaixo uma sinopse sobre a série:
Hokuto Shinken é uma arte marcial assassina, capaz de matar uma pessoa com apenas um golpe. Por atingir os pontos vitais de uma pessoa, o Hokuto Shinken é capaz tanto de curar quanto ferir. Ela só permite um herdeiro de cada vez, e a herança deve ser passada de pai para filho.
Abandonado pela sua família desde criança, foi adotado por uma máfia chinesa chamada Qing Bang, a Gangue Verde. Depois de se envolver demais com a máfia, Kenshiro decide se mudar para o Japão e virar professor, deixando para trás seus amigos e sua amada Gyokurei. Sua vida muda, ele vira uma pessoa pacata e está prometido para a filha do dono de uma grande corporação, a srta. Kitaoji Aya.
Porém, tudo muda quando um velho amigo, Li, aparece no Japão.
Já no Brasil fica difícil imaginar a obra sendo publicada, assim como qualquer uma das outras da franquia, mas esperança é a última que morre.